Summer School on Mathematical Philosophy for Female Students 2020
Idea and Motivation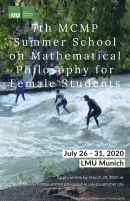 The Munich Center for Mathematical Philosophy (MCMP) is organising the sevent Summer School on Mathematical Philosophy for Female Students, which will be held from July 26 to July 31, 2020 in Munich, Germany. The summer school is open to excellent female students who want to specialise in mathematical philosophy.
The school's aim is to encourage female students to engage with mathematical and scientific approaches to philosophical problems, and thereby help to redress the gender imbalance in formal philosophy: it offers the opportunity for study in an informal and interdisciplinary setting, for lively debate, and for the development of a network of students and professors interested in the application of formal methods to philosophy.
This year at the summer school, we will have the following lecture streams:
"Suspension of Belief. Its Nature, Rationality and Logic", led by Alexandra Zinke (University of Tübingen)
"Emergence and Reduction in Science", led by Patricia Palacios (University of Salzburg/MCMP)
In addition there will be an evening lecture by Christine Bratu (LMU Munich), as well as talks by members of the MCMP.
The organising committee for this year's summer school consists of Sander Beckers, Sena Bozdag, Ana Cholodovskis, Stefan Rinner and Marianna Antonutti Marfori.
For information about how to apply for participation, please see the instructions at "Call for Application".
15th International Conference on Deontic Logic and Normative Systems (DEON 2020) 30th July – 2nd August 2020
Students of the Summer School on Mathematical Philosophy for Female Students 2020 are welcome to audit the conference talks of DEON 2020, free of registration. The conference will take place at the MCMP, LMU Munich. We encourage all applicants to check the webpage of the conference.
The biennial DEON conferences are designed to promote interdisciplinary cooperation amongst scholars interested in linking the formal-logical study of normative concepts, normative language and normative systems with computer science, artificial intelligence, linguistics, philosophy, organization theory and law.
In addition to the general theme of the DEON conferences, DEON 2020 will encourage a special focus on the topic: Norms in Social Perspective.
Master in Logic and Philosophy of Science
Many students from the summer school go on to study or research at the MCMP. In particular, attendees of the summer school may be interested in applying for our Master program in Logic and Philosophy of Science, details of which may be found on the MCMP website. The deadline for applications to the Master program beginning in the winter semester 2020 is June 10, 2020.